Bocketts Farm – A day out with the kids
During the school holidays I like to have a day out with the kids each week. This week we decided to visit Bocketts Farm Park. Bocketts farm is based in Leatherhead Surrey. We decided to team up for this one. As well as my 2 boys, I went with my sister and her kids too. With the kids aged from 5-11, it's important to plan a day out they all enjoy.
We booked our slot at Bocketts farm for 11am. It cost £55 for the 2 boys and myself. Initially I did think this was expensive. There is plenty of free parking, and we decided to take a packed lunch. This helped reduce further costs in there.
Upon arrival Bocketts farm looks beautiful. Flowers everywhere, colourful garlands and fabric windchimes are hanging from the trees. It immediately looks like an instagram dream. The kids were chomping at the bit.
What's at Bocketts farm park?
There is so much to do on a day out at Bocketts farm. After a whole day we still didn't feel as though we had enough time. Being a farm, unsurprisingly, there are farm animals. The pigs were a firm favourite with the kids. Especially during the pig race, which was surprisingly fun. There is a small animal encounter zone. Some small fluffies were available for the kids to pet. As well as the animals, the farm has a number of outdoor activities.
There are a number of playgrounds, jumping pillows and trampolines. The kids had a great time in the sandpit and on the slides. There are a number of activities included in the price. This includes the pedal go-karts, panning for 'gold' and the craft area. You could pay for extras for your day out. These included food for the animals (£1.50) and a water fight (£1 per person). During the summer they also have a bubble disco twice during the day. There were pony rides, tractor rides and electric go-karts at extra charge too. We didn't visit these will on our day out at the farm.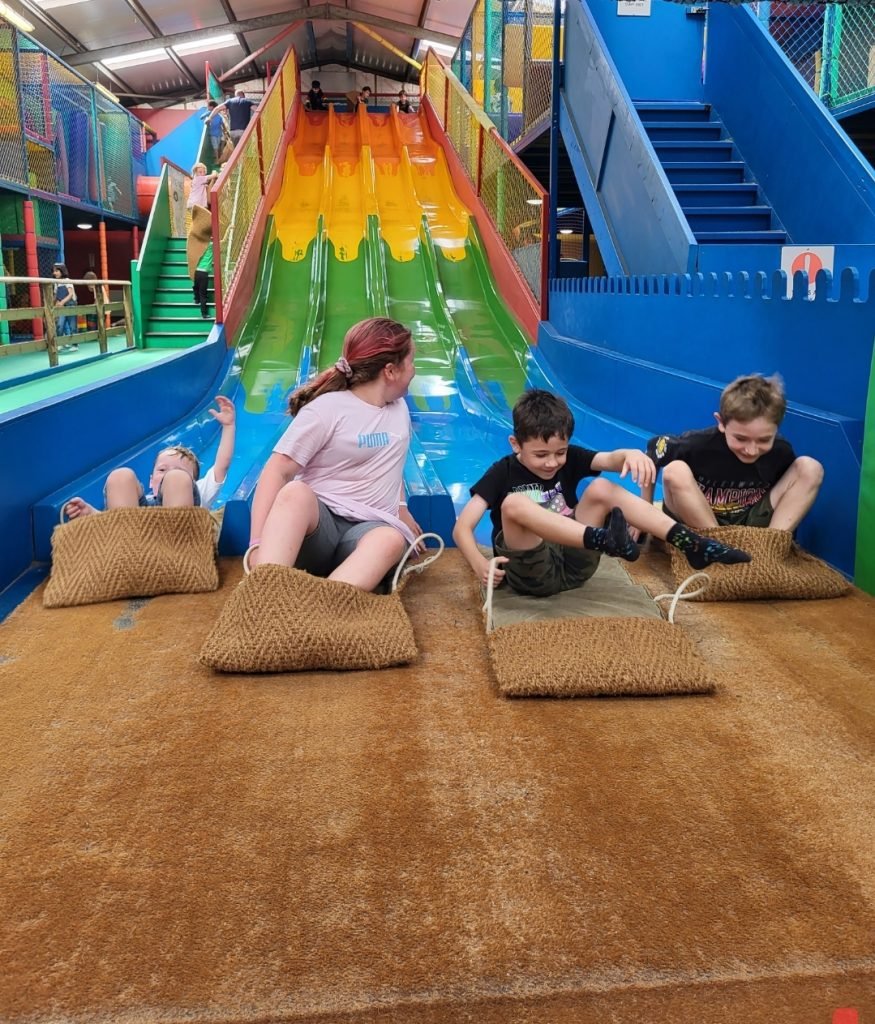 There are also 2 soft play areas. One with an eye-catching rainbow slide running down the middle. We spent quite a long time in there, with all the kids really enjoying it. It looked to be very clean, which isn't always the case with soft play!
What's it like for Mum's at Bocketts
Us Mums had a great day too! We even went on the slide too! It was lovely to see the kids having so much fun. They were all on their best behaviour. That made it a lovely day to be able to catch up with my sister. Plus the sun was shining which always helps! We did have to carry our pack lunches around all day. Perhaps lockers somewhere would be useful. Having said that, the farm park isn't overly large. So it wasn't too much of a hardship. Plus the lunch bag is always lighter mid-way through the day!
There were a fair amount of benches dotted around, perfect for watching the kids. Lots of picnic benches were available, many under shelter. Bocketts farm park is open year round so they need to be prepared for all weather.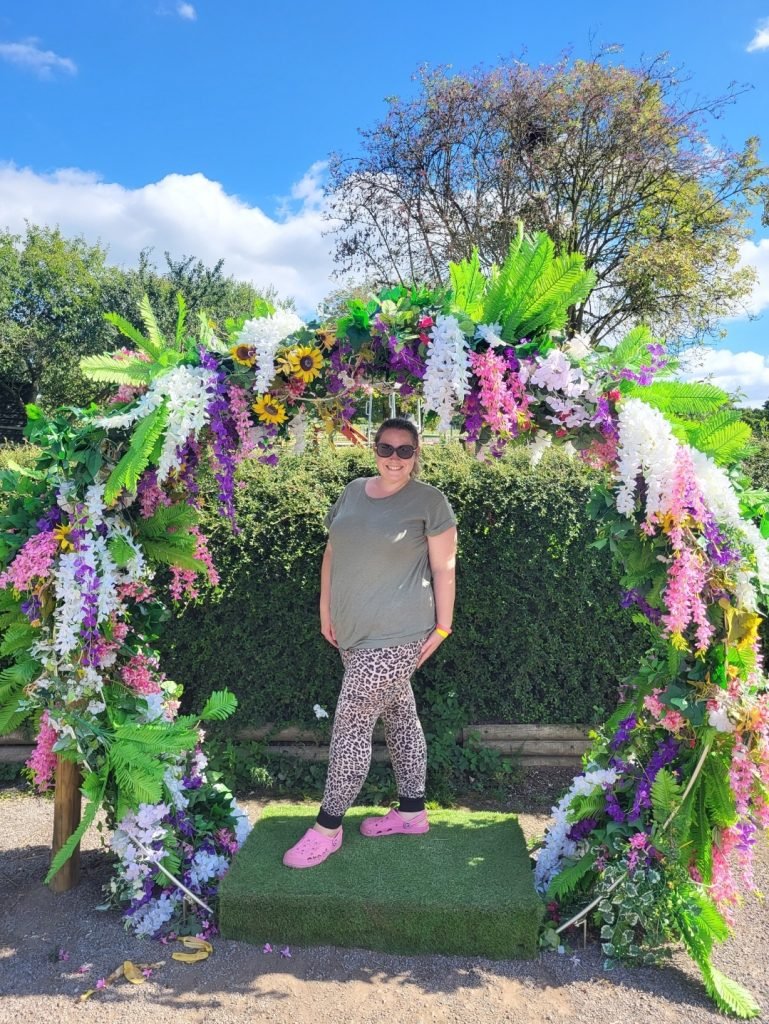 There is a Bocketts farm app you can download. This tells you the activities for the day, and has an interactive map to guide you to the right place. One of my favourite things was that you could plan a timetable of activities you would like to do. You can schedule reminders to ensure you don't miss anything.
It's easy to see your kids at most times, which is reassuring when you have little ones. Due to this, it feels a very safe place to visit.
There are a few places to get hot drinks and food. We saw a few places to buy ice creams. I imagine these aren't open year round.
The kids favourite part of Bocketts Farm Park
The pig race was a sure winner with most of the kids. In the craft area the kids could create a flag to cheer on the pig of their choice in the races. We spent a fair bit of time in the gold panning area. Water and sand, what's not to love?! When leaving, they were already asking when we could visit again.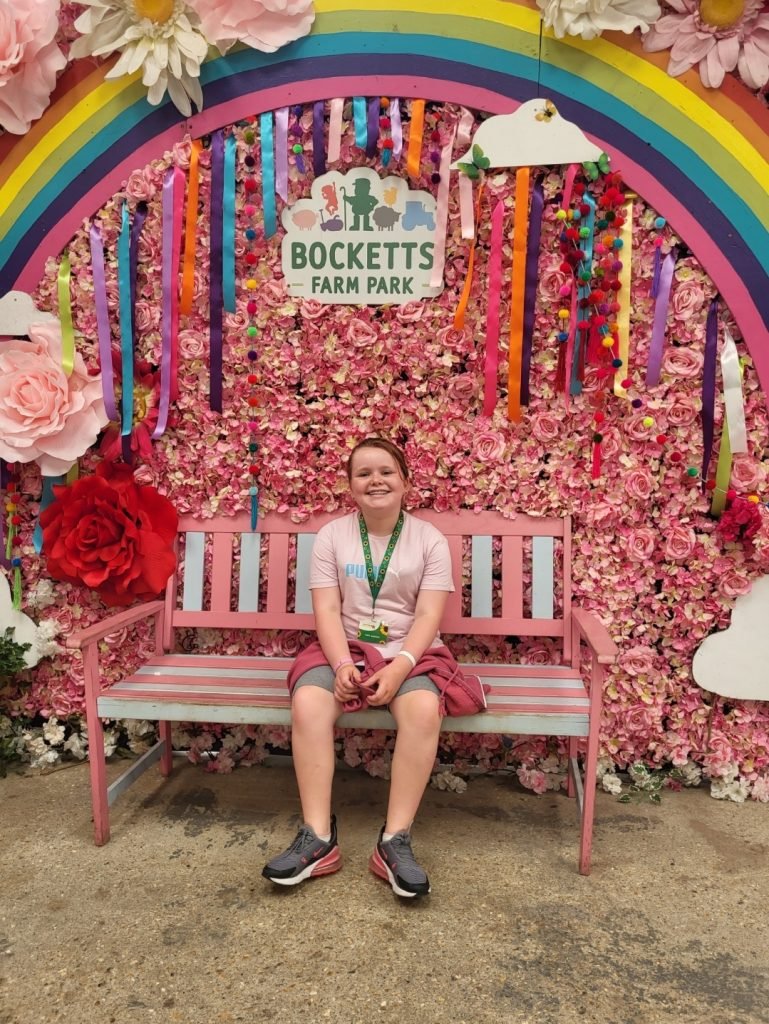 Is Bocketts farm worth the money?
YES!
It did seem like a lot of money when buying tickets. However, when you compare it to 2 hours at soft play for £25 – £30 it makes it seem very reasonable. You can save costs by taking a packed lunch and avoiding the gift shop. The payable activities within the farm are very reasonable, but the kids were happy enough without them. Parking is free and there were lots of space. All 6 of us said what a great day we had, so it's a definite thumbs up from us! Will we go again? Definitely!
Bocketts farm park rating
Bocketts farm park had a lot to offer. It was mainly aimed at younger children although my 11 year old niece had an amazing day.There isn't a large choice of food options, but there are plenty of tables under cover to sit and eat a picnic. It is a fairly expensive day out, so it is best to keep costs down by taking a packed lunch.
We rate Bocketts farm park:
4.7/5.0