A day out at Legoland
I love having days out with the kids, seeing their joy and happiness at exploring places old and new. This time a day out with the kids took us to Legoland. Legoland is aimed at children between 2-12, and has over 55 rides and attractions. From our experiences there, I would say ages 5-10 will get the most out of the day. Children under 0.9m enter the park for free. For everyone else there is an on the day price of £66. If you buy tickets in advance you can save money and tickets start from £34 a person.
Usually we go on days out with my sister and her 2 children. I would just like to point out, we all have Merlin passes so we try to have a day out with the kids as often as possible. Secondly, my niece has autism, due to this she gets a fast track pass which enables most of us to get on the rides a lot more quickly. I do appreciate this may make our experiences different to others.
I travelled to Legoland by car, it was well signposted and there was a lot of parking available. My sister travelled by public transport. There is a bus stop right outside the park. She planned to get an earlier bus home to ensure they got on the and the bus wasn't too full. However, this bus didn't arrive and they ended up waiting for over an hour for their bus home.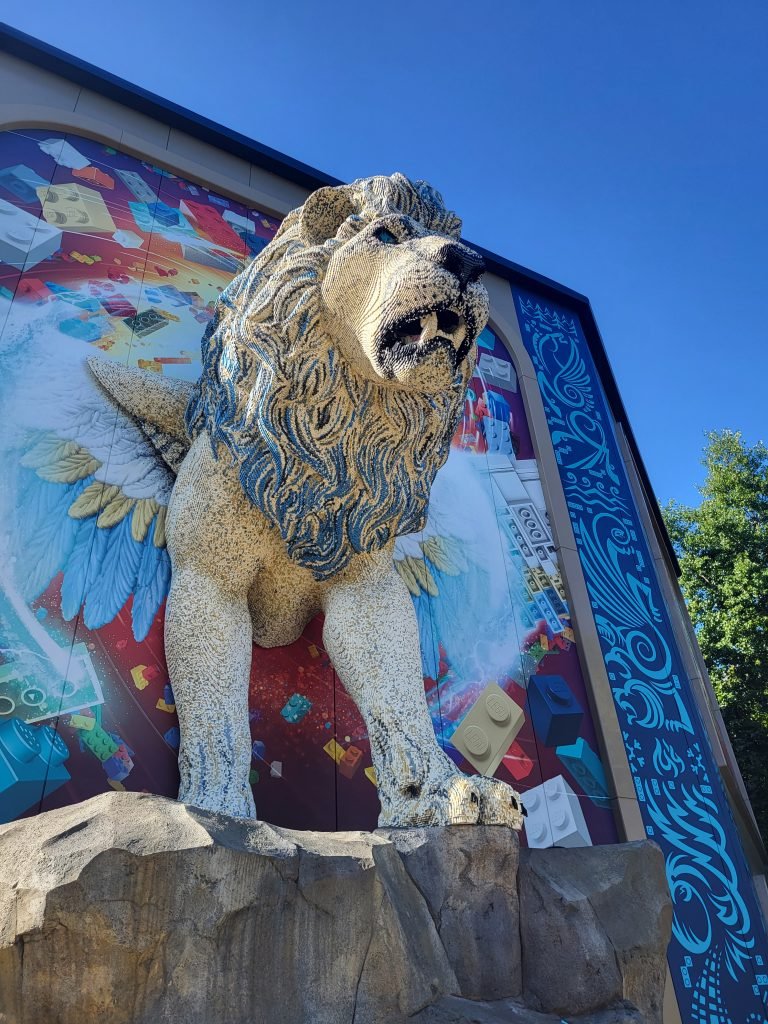 Our favourite things about our day at Legoland
We all had a great day out at Legoland. Luckily we were blessed with good weather which always makes a big difference. We went further into the park on arrival and managed to get on a fair few rides. This was definitely down to the fast track pass though! We avoided most of the water rides as although it was sunny it wasn't overly warm.
A definite highlight for all of us was the dragon ride. My 2 had never wanted to go on there before. Being with their cousins, they summoned the bravery and got on. My youngest hated it the first time, but went on a second time and loved it! They had been converted, and I felt so proud they had gone out of their comfort zone.
Another area the kids loved was the Ferrari building zone, which is new for 2023. The kids loved building a Ferrari and racing them down the ramps and tracks. All the while my sister and myself were cringing at the snotty dribbling children over the shared Lego boxes 😬.
Mustn't forget the Ben & Jerry's shop! My niece had been looking forward to this all day, she ordered the biggest sundae she could. Then she couldn't manage it all.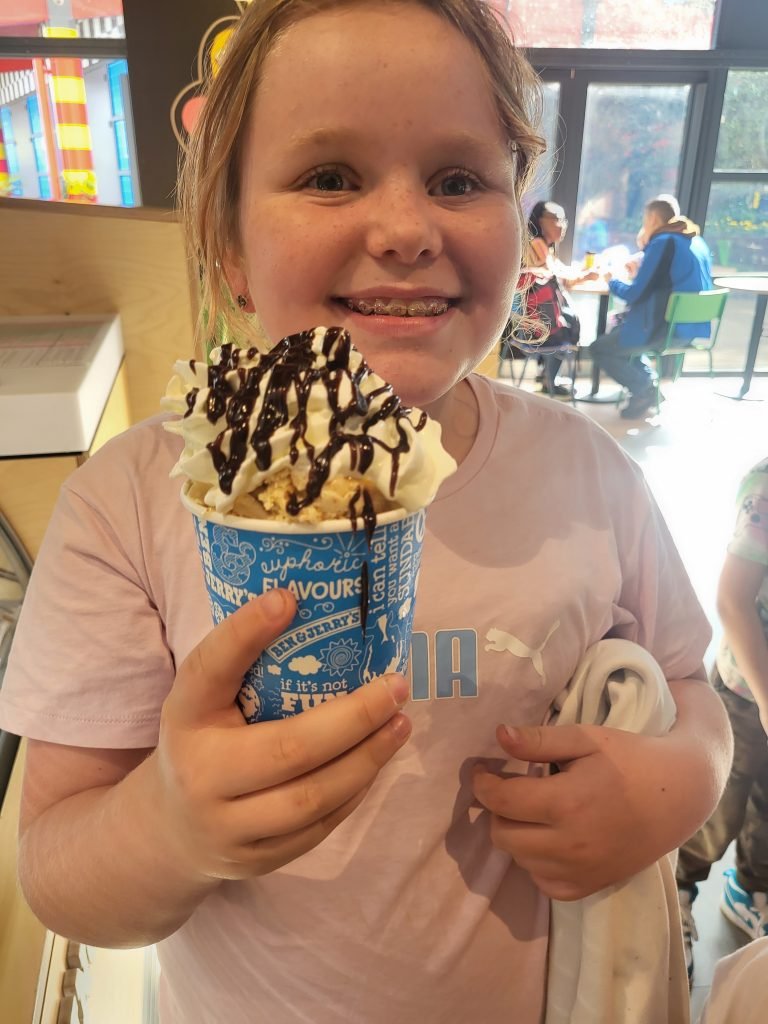 What rides did we go on?
As I mentioned previously, we do have the fast track pass which minimises queue time. Due to this we got on more rides than perhaps we might have. All of our kids are over 0.9m. This meant we could go on most rides. My 8 year old is just 1.3m which meant he was able to go on rides with my 11 year old niece rather than an adult. Whereas, the younger ones needed an adult accompanying them.
A definite hit was Flight of the sky lion, an immersive flight simulator. The younger 2 didn't want to get on this one and waited with my sister. I went on, and thought it was fantastic, but it did give me some motion sickness, as I expected.
The spinning spider was a ride we could all get on together, and it was a lot of fun. Merlin's challenge was a fast one the kids enjoyed too. The dragon was loved by all, we gave the dragon's apprentice a go because there wasn't a queue, the kids all thought it was boring though.
As well as building Ferrari's, another non-ride area the kids loved was Mini land. They all loved walking around and seeing what landmarks they recognised. Parts of this area are dated, there are sections that don't work fully but the amount of time and work that has gone into it is breath taking. On that note, all the Lego statues and creations around the park really are amazing, any Lego fan will appreciate them.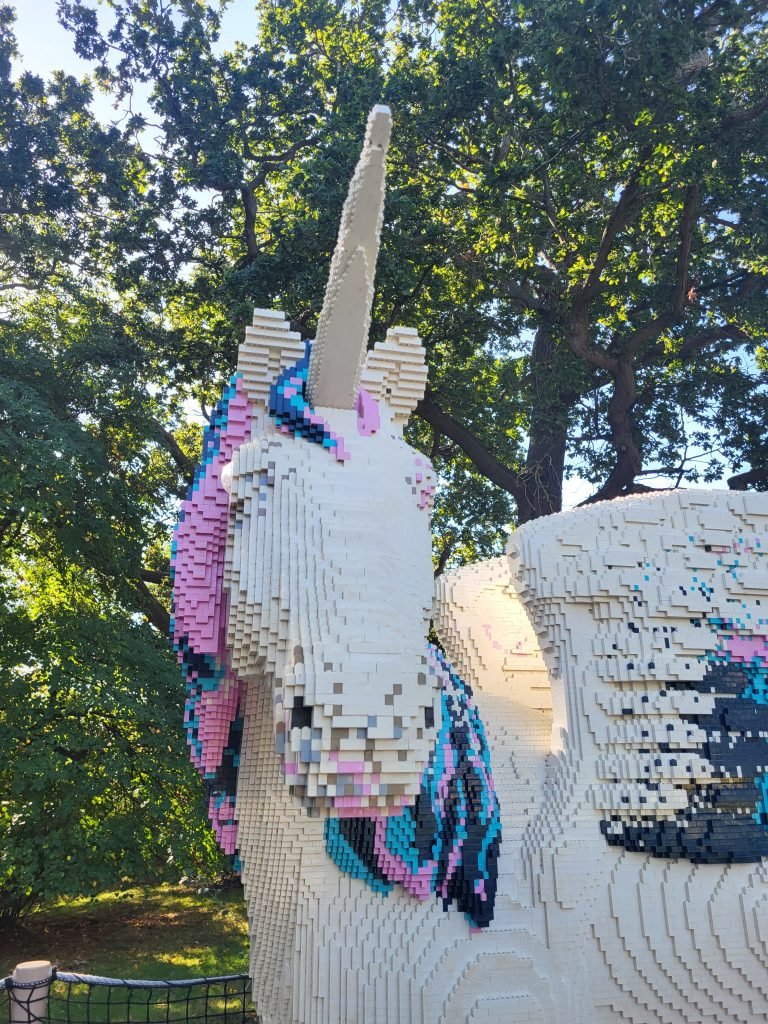 Were all the rides working?
Simply, no. I have seen a lot of reviews online about there being a number of ride closures during visits. It didn't affect us too much but there were some ride closures. Viking river splash was closed, but i'm not sure we would have gone on that anyway. Mia's riding school shut part-way through the day, much to my niece's disappointment.
This one is unlikely to come as a surprise to anyone who has visited Legoland previously. The Hill train was out of service. To be fair, as we arrived it was running. I made a comment to my sister about it being the first time I have ever seen it working. At the end of the day facing the climb up the hill, it had closed. My sister decided I was a jinx 😂. We struggled to get on the driving school, so we would definitely recommend going to that ride earlier in the day.
Top tips for visiting Legoland
Book in advance to get the best price. Sometimes the 2 for 1 offers don't work out as better value as you have to pay the on the door price.
Download the app! You can delete it afterwards, but it is really useful for the visit. You can see live queue times and work out where to go next.
Go with a plan but be flexible! It may be good to go on rides you can see have shorter queues, but make sure you don't miss out on the ones you really want to go on.
Take a packed lunch! Food and drink is expensive in the park, it's definitely cheaper and healthier to take your own lunch with you.
Remember you get a discount in the shops & food outlets with a Merlin pass or blue light card – yes this includes Ben & Jerry's!
Make sure your phone is fully charged, for the app and also as a back-up mirror!
Parking is expensive, £10 for the day. If you have a premium merlin pass then you get free parking – just scan your pass on the way out.
All food and drink outlets are cashless – another reason to ensure your phone is charged.
You will definitely need a whole day there unless you visit regularly. The gates open at half 9 so you can get in and begin queuing should you wish.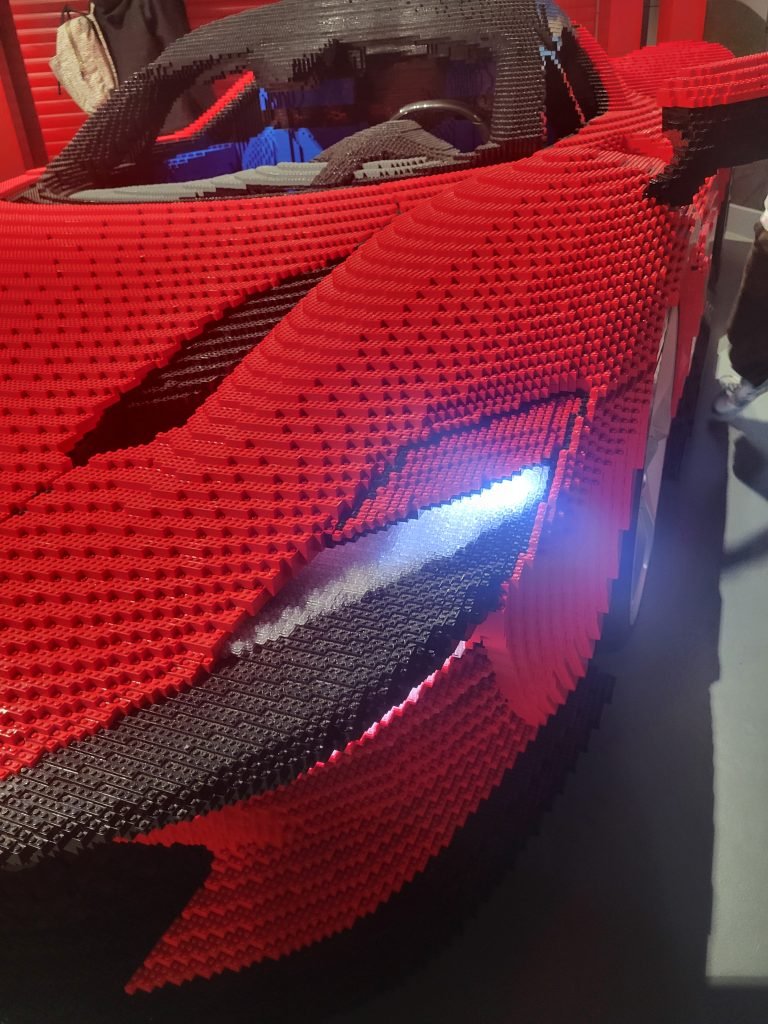 Final thoughts on visiting Legoland
The park was very clean, we saw no litter and there were no overflowing bins. The toilets were clean and replenished throughout the day. Most of the staff we encountered were very helpful and friendly. There is a range of things for kids of different ages. Our children range from 5-11 and there was something for all of them to do. I think next year my niece may not enjoy it as much, and the bright lights of other well known theme parks will tempt her away. For us having our Merlin passes we will definitely visit again, I would have paid £100 for us to get in if I needed to. If I had paid £100 I'm not sure I would be in a rush to go back.
The food and drink is expensive, I think a refillable cup was £16! There are several bottle filling points around the park so you can fill up your bottles. Some areas of the park are a little neglected, but there are a number of new things too. Lastly, and this is a weird one, but there are no mirrors in any of the bathrooms. This may seem trivial, but if you have been on a water ride you can't check to see if your mascara has smudged.
We give Legoland:
4.2/5.0